Do you want to appear on the Google map, but don't know how? Would you like to receive more reservations from local tourists? So this is the time to learn how to use Google My Business for hotels and boost your business.
What is Local SEO and what is it for?
First, Having an online presence is essential to improve your reputation and to attract your potential clients creating a great digital image that is the first contact people have with your hotel. Also, if your goals are to stay relevant and compete in the market, as well as reach your customers faster, local SEO cannot be missing from your strategy.
However, Local SEO consists of applying certain practices to optimize the location of your hotel on Google Maps. Surely you have observed that when you are looking for a hotel, shop, restaurant, etc. on Google, the first results it throws at you are on a map.
That map comes out first than any other search result, website, or ad. So, if you miss the opportunity to appear on the map, it is most likely that you will lose the user to other hotels that do appear on the map or Google's "Local Pack".
We know that as an entrepreneur you are looking for your hotel to be accessible to everyone, with the best chances of being seen to boost your reservations. Therefore, below we will see how to use Google My Business or Google My Business for hotels and position yourself with local SEO.
1. Claim your Google My Business site
Before your hotel can appear in search results and on Google Maps, you have to claim and verify your account. The steps are very simple:
Login to your account Google My Business or create one.
Find the address, name of your hotel or add it if you can't find it.
Select your business and start using your account.
Once you have claimed ownership of your hotel, you will receive a notification to verify your account and once you have done so, you can start uploading and updating your information.
Google My Business allows you to show relevant information about your hotel, such as days and hours of opening, your web address, social networks, contact numbers, etc. so that the user can easily meet or contact you.
In addition, it is completely free and it is one of the best tools that your hotel can use to improve its SEO positioning and to promote local tourism, since it provides a lot of information to the user at first glance, without having to enter a website.
2. Complete with updated information about your hotel
Suppose you are looking to book a hotel online and you see a business on Google Maps, you try to call, but no one answers. What are you doing? Are you still trying or do you move to the next hotel on the list?
This example reflects the importance of always having updated information, as well as including the correct contact and location information so that they can find you without any problem. Once you start using Google My Business you will see that this is like the virtual gateway to your hotel. Do not neglect it.
Also, this tool offers many special options for hotels, such as the hotel attributes section where you can describe all the services and amenities you offer, as well as the reviews collected from your distribution channels such as Booking.com, Trivago or Expedia.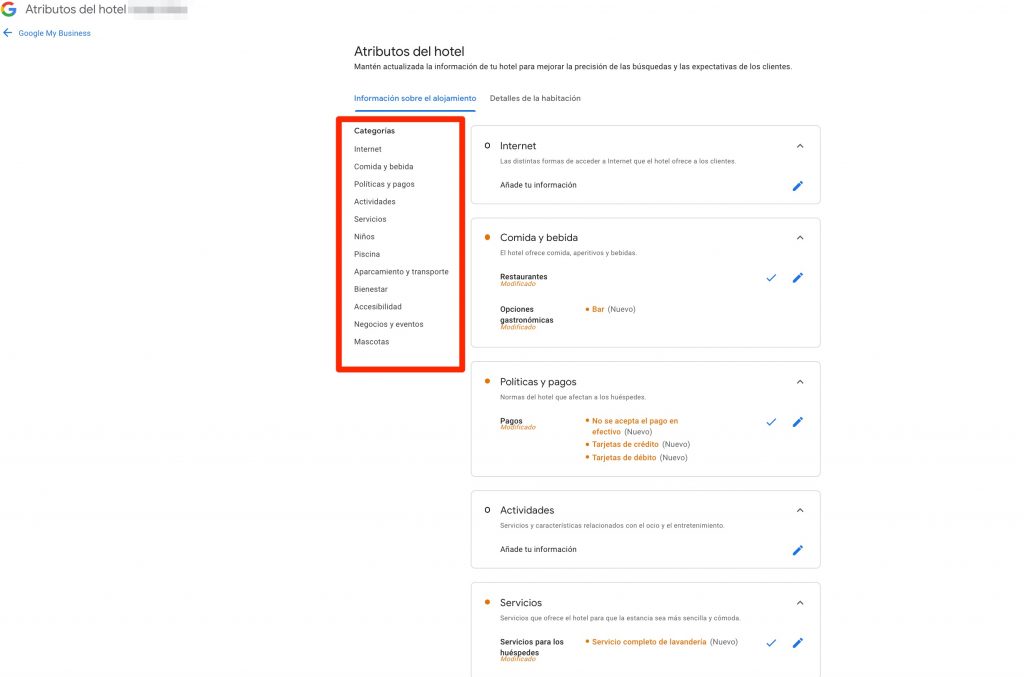 3. Recommendations
Finally, To have your listing correctly optimized in the Google Local Pack, follow the following recommendations:
Put the name of your hotel in the title.
Choose your logo as a profile photo to make your hotel more identifiable.
Write a short and eye-catching business description.
Add photos of the hotel, rooms, amenities, restaurant, activities, etc.
Choose the labels that best describe your hotel.
Include your exact address, contact details, your website address, as well as your social networks.
Constantly update if you have seasonal promotions, changes in rates or important notices that affect visits to your hotel.
Take advantage of all the features it offers you
One of the great sales of this tool is that it integrates a booking button through your current provider. This feature allows your potential visitors to sync their reservation with other Google applications such as calendar, email, and automated reminders so they don't lose their reservation.
With a Google My Business account, your hotel will be much more accessible to your potential clients, who can visit your website, call or reserve and even put Google Maps and go directly to your destination.
On the other hand, invite all your customers to leave a review. The more reviews and better scores you have, the more likely your customer will decide on your hotel and not on another. This will increase direct bookings by Google or your website, rather than by other OTAs.
Optimize your hotel's visibility with Google My Business
Finally, there is no doubt the importance that Google has acquired for business today, and if you want to optimize the visibility and enhance the performance of your hotel, it will not only be enough to have a presence in OTAs such as Booking.com, TripAdvisor and BestDay , but take advantage of all the tools available.
Using Google My Business for hotels will allow you to optimize the visibility of your hotel on digital channels as well as enhance your business and offer an unforgettable experience for your guests.
Consider that implementing local SEO practices and managing your account are activities that require time, perseverance and dedication, so you can also leave it in the hands of an expert.
When your hotel is part of the GuruHotel community, this becomes part of our digital hotel chain and we will take care of integrating these and more local SEO tools to your direct channel.
If you liked this article you may be interested East: