Photographs are the cover letter of your hotel and one of the main reasons why people will decide on your accommodation since they are a very powerful tool to stand out from your competitors. For this reason, in this guide we will tell you how to take the best photos of your hotel according to Expedia.
In this way, you will be able to learn about the type, quantity and appropriate quality of the photos that most attract the attention of travelers and that will help you convert your website visitors into guests.
1. Ideal number of photos
To take the best photos of your hotel, take into account that users need to see several photos that give them enough information about your hotel, but in an adequate amount that does not overwhelm them. Our recommendation is to include:
4 photos per room type: Properties that use unique photos, such as room-specific views and amenities, average up to 11% higher conversion rates. And do not forget the bathroom because the 60% of travelers classify the images of the bathrooms as very important.
1 exterior photo: Show your hotel or building in relation to the surrounding community, as this will give your guests a sense of place. This can be a photograph with a drone or from the street view, so that travelers can much more easily locate the location of their accommodation.
1 photo of the entrance or lobby: Assure guests of a warm welcome with a photo of your entrance, reception or lobby, which will be the first thing they see upon arrival.
1 photo for each amenity of your hotel: It will also be very important that you portray all the services and amenities, from images of your pool, restaurant, gym, spa, among other important activities so that your accommodation stands out and travelers can imagine themselves there and all the options they would have when staying in your hotel.
2. Photo quality
On the issue of quality, let's first consider guidance. Horizontal photos work much better for websites and they can have multiple uses such as in videos, advertisements, etc. Vertical photos (portrait style) are not recommended as they fail to capture and use all the available space.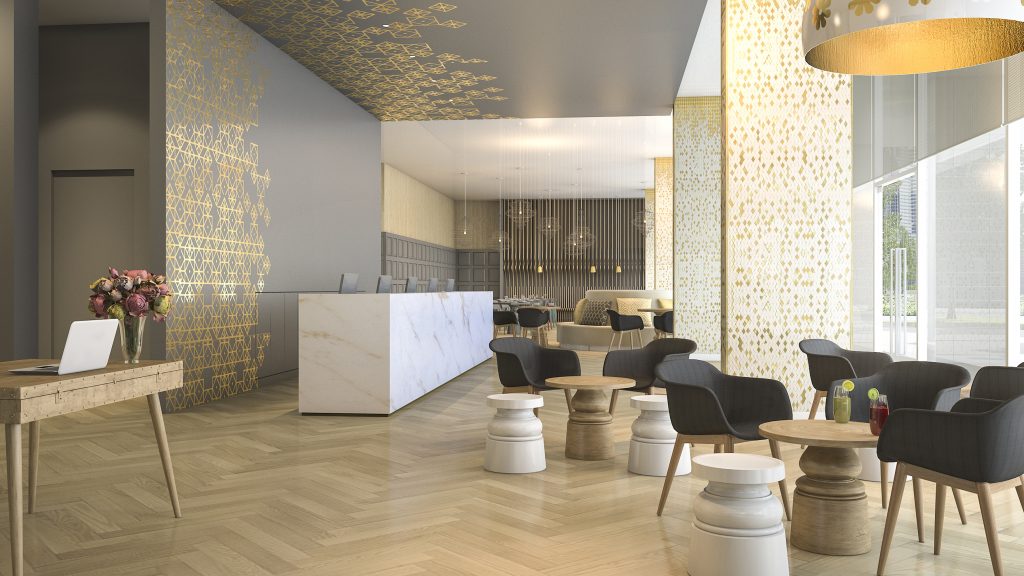 On the other hand, good resolution photos are important. Even the most beautiful properties can appear unappealing if the photos are pixelated, out of focus, or very small.
Always try to make your images have 2880 pixels or more on the longest side as this will allow you to display photos in high quality on both desktop and mobile devices.
Finally, avoid using artifacts or accessories that distort your photos. Travelers are wary of images that do not show the reality of rooms such as telephoto lenses or fisheye, because these can make a room or pool look bigger online and in real life travelers could be disappointed.
3. Choose the best cover images
From all the pictures taken, Choose the ones that cause the greatest impact and determine one of them as the first image that will be shown to visitors to your site or in online travel agencies (OTAs).
This "primary" image is the photo that appears on most search pages and should reflect what is unique and remarkable about your property. As well as setting the expectations of the guests. For example, if your property is ideal for a sunny and relaxing vacation, select a bright photo of the exterior rather than a dark image of the interior.
There are several recommendations for choosing the perfect primary image. Try to make it an incredible exterior photo, one with the interior decoration that portrays the style of your hotel, even a swimming pool, if it is a feature you want to highlight, or the view from one of your rooms.
On the other hand, undesirable primary images include those of bathrooms, spa services / fitness facilities, dining areas, or business facilities. Remember that while it is important to include the amenities, the cover image should invite guests to see the rest.
4. Highlight the best features of each space with different photographic approaches
In the rooms:
Use natural light as it is much more flattering than artificial light. Arrange for cleaning to be done before the photo shoot.
Check for finishing touches like the television is turned off, the curtains drawn, the empty trash cans, etc.
Capture what is noteworthy in each type of room, such as stairs, balcony, jacuzzi, etc.
Take photos of the 4 corners of the room.
Take some head-on photos.
Try photographing the bed from a lower angle.
Capture an equal amount of floor and ceiling that adds balance to your shots.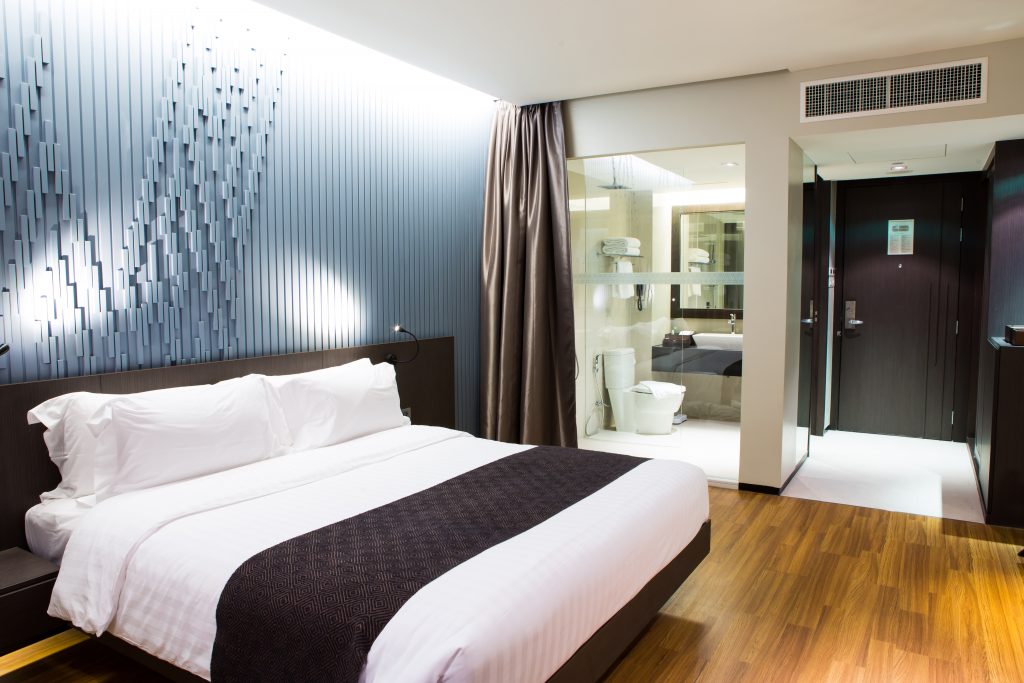 Outdoors and surroundings:
Travelers prefer images that show their building in relation to the surrounding community, especially for urban properties. The use of light and movement encourages travelers to imagine activities that are right outside their front door. Try to follow these tips to get the most out of your property.
Capture photos outdoors during the "golden hour" of photography, just after sunrise or just before sunset. A daytime shot can show the beautiful weather and attractive scenery, but a sunset shot creates a cozy atmosphere with a rosy glow of indirect light.
Capture the outside comforts. Give your guests an idea of what to expect when they arrive at your property, or leave their rooms for breakfast in the morning. Don't stray too far
Do not include images of sights or places that are not around the property as this can be misleading to travelers.
In common spaces and amenities:
When travelers click on your page when searching for services or amenities like a pool, gym, or restaurant, showing them pictures of these spaces can help convince them to book.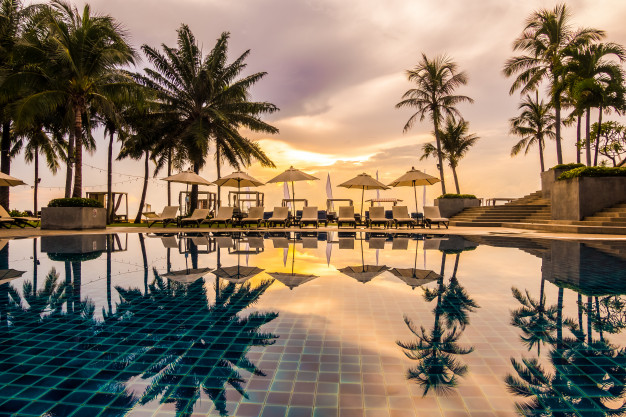 Key services: swimming pool, business center, spa, breakfast or cafeteria help to differentiate your property.
Food: Highlight any unique dining experience you offer at your hotel, such as a community dinner, access to picnic areas, or region-specific food offerings. If you have the breakfast option, be sure to include photos of the buffet, dishes, or some a la carte options.
Community spaces and specific decoration such as sports, art or minimalist furniture that help give your accommodation personality
5. How sTake the best photos of your hotel with your smartphone
Today, with the technology we have on hand in most of our mobile devices, we can achieve incredible results without the need for professional photography equipment.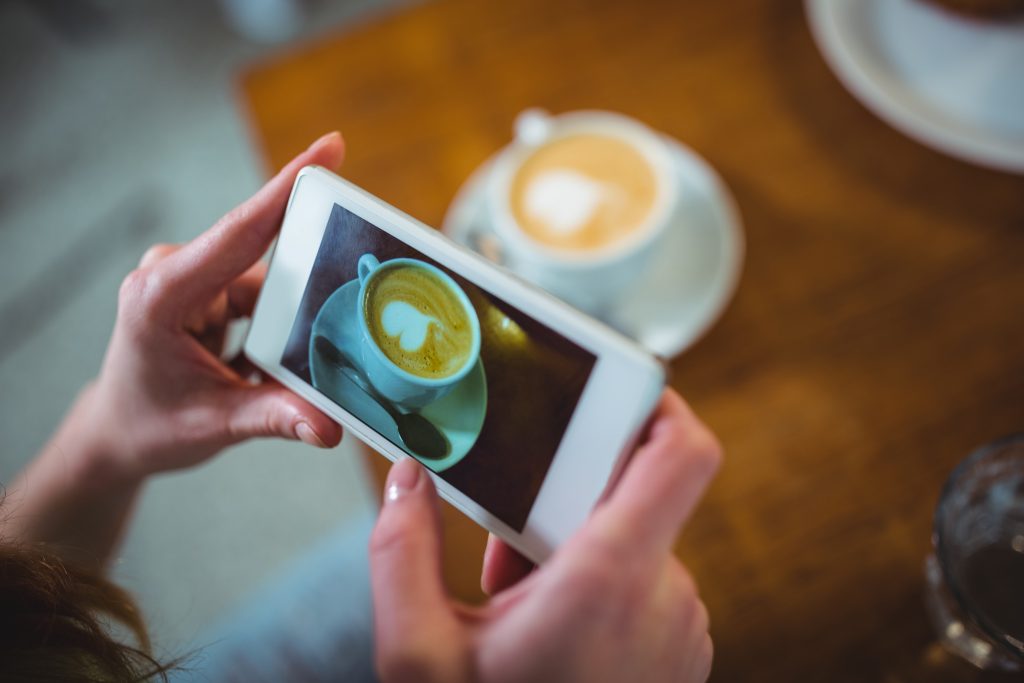 Most smartphones can take high resolution photos. Check the functions of your camera on your phone manufacturer's page and follow the following practices on how to take the best photos of your hotel.
Take advantage of your phone's tools
Plan the photo session in advance so that you can prepare yourself for the issues of lighting, the weather and even the cleaning of your facilities.
Use HDR mode
Adjust the exposure. This option can normally be activated by tapping the screen and adjusting the light in environments that may be dark.
Apply the rule of thirds for the composition of your photos. This theory refers to the fact that the human eye is attracted to images divided into three parts, where the key or main subjects are located on the dividing lines of those thirds.
To achieve a perfect rule of thirds, place your main subject at the intersection of those imaginary lines. On phones you can activate the option gridline or grid lines to align the image perfectly directly on the camera or you can download a specific application for this.
Follow these recommendations and you will be able to take the best photographs of your hotel and portray the beauty of its facilities to stand out in your distribution channels, your website and obtain more reservations.
Similarly, in GuruHotel we put at your disposal a premium service of professional photographs for your hotel, through our partner FOTEC.
FOTEC is already part of our Marketplace and you can benefit from their packages at a special price. This, with the aim of enhancing the image of your property and having a more competitive digital profile.
If you were interested in this article, you can also like: